What we help to solve
People wanting to be more active often don't know where to find out what physical activity is happening in their area and useful information about these activities. Physical activity providers such as local authorities, leisure providers etc often don't have the relevant information on their sites to direct people wanting to become more active to and setting this up is time consuming and expensive.
How we solve it
Our product easily integrates within your site using a few lines of code which displays the physical activity that you provide. Our web widget shows people looking to become more active; what is available, where the activity is taking place, the price of the activity and more key information needed for these people to make a decision to suit their needs the most. We use the technology we have developed to show this information within your sites making it an easy, trusted destination in which to direct people searching to become active. We can make this customisable so that it integrates perfectly with your website at a low cost.
What we offer
Publish your open activity data on your website using the Played-imin customisable widget.
Our widget will use the technology we have built and act as a portal on your site showing users the following information:
Map showing users what is going on around them.
Name and location of the activity.
Available spaces.
Date and time.
Cost.
Detailed description.
Information on how to get there.‍
Making these sessions/facilities bookable from within the widget will become available and if providers would want this option we can facilitate this.
Please see the mockups below for how this will look using a London Borough as example:
‍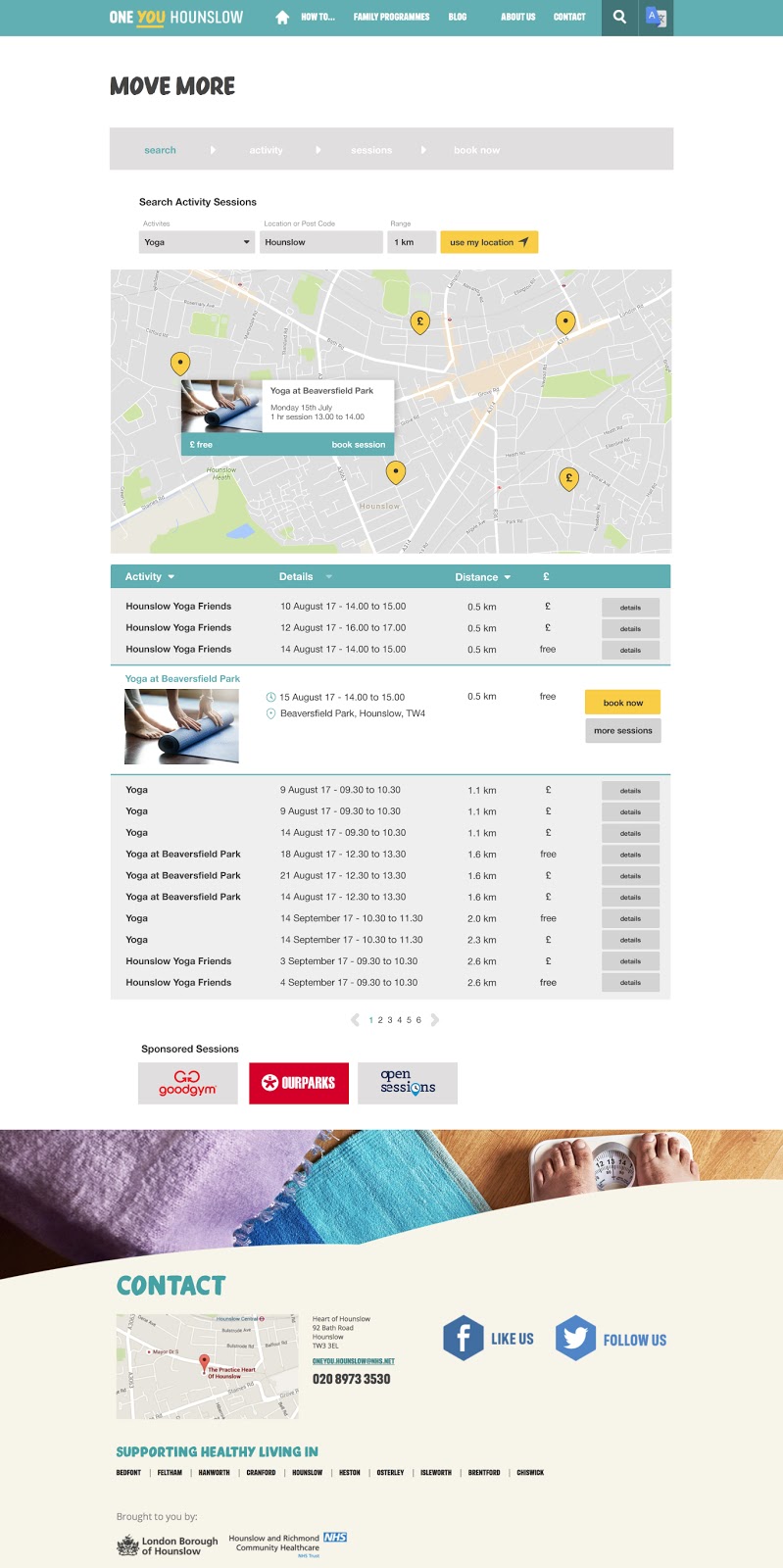 ‍
‍
‍
Who is this product aimed at?
We are looking to partner with any physical activity providers such as local authorities, schools, leisure providers etc to display critical information about the physical activity they provide on their own websites and to help people within their region make the best choices in becoming more active.
What we're looking for
We want to help you display the great physical activity that you provide in a helpful way within your website. We want to be able to make the physical activity that your organisation provides available on your website, this will be a great place to direct people looking to become more active and will allow them to have a great awareness of the array of activity going on around them, allowing them to make the best choices for their needs. We are looking to form commercial relationships with forward thinking local authorities who want a modern customer experience when it comes to giving residents access to physical activity within the region.
This product will help attract the most inactive people looking for the right activities to suit their needs.
Data we use
We will use opportunity data provided by Imin to assess information about the sessions/facility such as location, opening times, availability and other relevant information to help users make the right decisions.
Data we create
This platform will create participation data which will include the frequency of participation, amount spent on physical activity, types of activity much more allowing us to share this data with partners to provide them information to create products and solutions to further increase physical activity.
Who we work with
We are partners with imin who will be providing API's for us to display availability and other relevant information about the activities
Plays well with
We integrate with the imin Physical Activity Availability API.
Any activity providers website, our web widget sits seamlessly within your page and can be customised to suit your needs.
Why you should work with us
Our product is the right choice as we can provide you with an easy to use widget, for a low cost aimed at giving people looking to become more active a better chance at making the right decision for their needs. Please don't hesitate to contact us about how we can help make this happen.
Want to find out more about this product?
Connect Me